300 Gogos & Mkhulu's Celebrate Fr Emil's Birthday
About 300 Gogo's and Mhulu's, faithful listeners to Radio Veritas, gathered at the Johannesburg Chancery hall to celebrate the belated birthday of Fr Emil Blaser OP, the director of Radio Veritas on Saturday, 21 October 2017.
For some years now this event has been supported and publicised by Tshidi Ramogase, a non-Catholic and faithful listener to the radio station, who has kindly sponsored the event.
Before the five-star luncheon, speeches were accompanied by pre-lunch drinks and snacks. The brass band of the national Apostolic church performed for the guests. It was interesting to note that several players were teenagers and the group performed professionally. This was a wonderful ecumenical gesture.
In welcoming everybody, Tshidi, our generous host, paid a loving tribute to her mother who had died earlier in the year and who was always a welcome guest at this feast. She also thanked all those who would spent so much time in preparing this event. Unfortunately, this was to be the last annual event that she would be able to sponsor.
She also welcomed the Deputy Minister of Social Services who graced us with her presence and who addressed the Gogo's and Mkhulu's about their pension payouts. Everyone present received from her a gift of a beautiful blanket and toiletries. Each was also given a security remote which could be used in an emergency.
The biggest and most pleasant surprise of the day was the arrival of the famous MaCecelia choir which entertained the gathering with beautiful choral pieces.
The hall was very colourfully decorated and what was very obvious was the beautiful, newly launched logo and branding of Radio Veritas.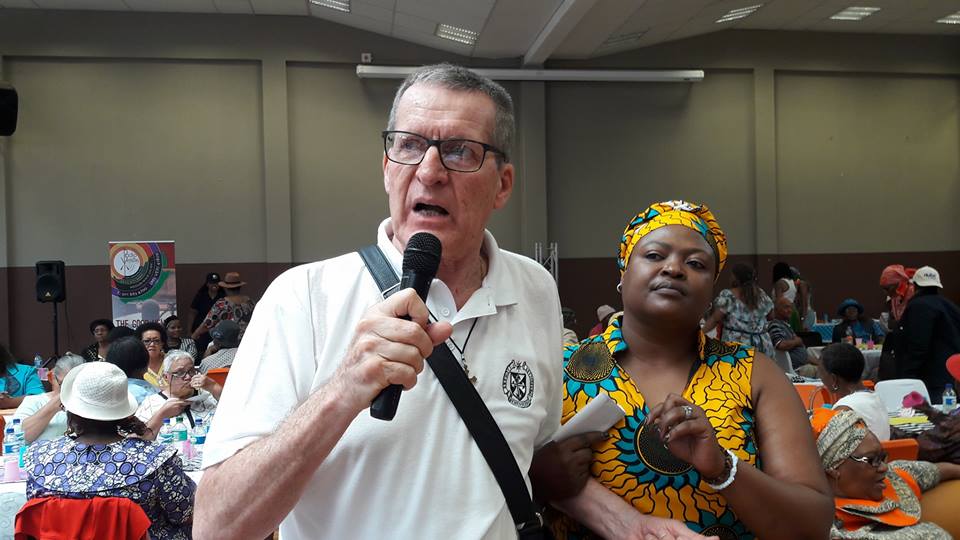 All the guests were treated to a comforting neck massage and could also have free professional photographs taken of themselves.
Father Emil thanked everybody for being at the event and for their good wishes and generosity. He told them that all those who were donors of Radio Veritas would be receiving a special gift for Christmas and that his plea to them would be to find just one more donor who would make a monthly contribution of R100 a month. He assured them that after being off-air for a couple of weeks due to his illness, he would soon be back again on his morning show.
The day was a great success and much of this was due to the hard work of members of staff, like Mahadi Buthelezi, Vincent Mokoena and Khanya Litabe, who, with the equipment of Radio Veritas provided background music and the very effective PA system.