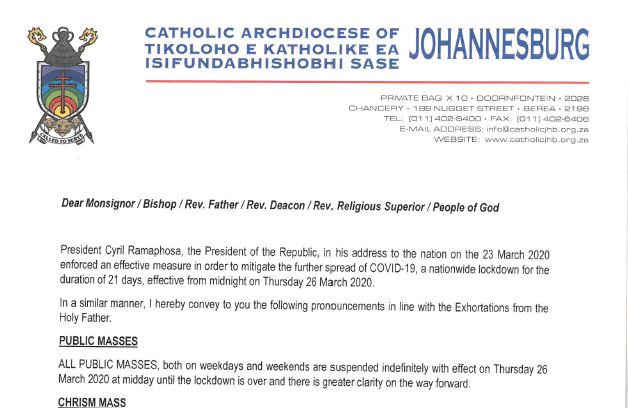 Archdiocese of Johannesburg - Lockdown Response
Archbishop Buti Tlhagale of Johannesburg has issued a letter outlining the Archdiocese's response to the National Lockdown.
In it, the Archbishop stresses resources for the Domestic Church, which include the daily and weekend Masses broadcast by Radio Veritas on 576 AM, DSTV Channel 870, and live streaming on this website (Click "Listen Live").
Mass times are as follows:
Weekday Mass @ 12h30. The Daily Holy Hour begins with the Angelus at 12h00, then listeners are afforded an opportunity to call in with their prayer requests before the celebration of the Holy Eucharist at 12h30.
Saturday Masses: 12h00 Portuguese, 18h00 English
Sunday Masses: 09h00 Sesotho / isiZulu; 11h00 English; 18h00 Sesotho / isiZulu
All you need to know about the Church and the Lockdown
To read the full letter from the Archbishop, click on the graphic of the letter.
---