Blessed Benedict Daswa 30th Martyrdom Anniversary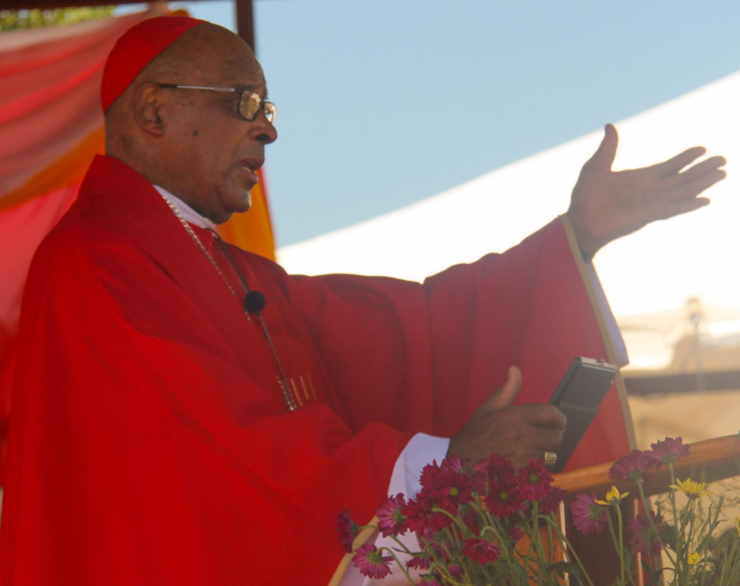 On Saturday the 1st of February 2020 thousands of the faithful gathered at the Benedict Daswa Shrine Site in Tshitanini, Venda to witness the 30-year celebration of the martyrdom of Blessed Benedict Daswa.
His Eminence Cardinal Wilfrid Napier was the main celebrant, assisted by Bishop Joao Rodrigues and Bishop Emeritus Hugh Slattery of Tzaneen. The Cardinal based his homily on the gospel of the day: 'unless a grain of wheat falls to the ground and dies it remains itself alone, but it if dies it produces many more seeds like itself'.
The Cardinal said the readings chosen for this 30th anniversary of Daswa's martyrdom were a reminder of how God wants the faithful to understand what happened to Blessed Daswa. He said when the community wanted to raise money to pay a diviner to 'smell out' who was responsible for a lightning strike, there were three things that made Daswa react differently. One, he knew that lightning could not be controlled by a human being. Two, he knew that an innocent person was going to be killed. Thirdly, as a Christian, especially as a Catholic, he knew it was wrong to believe in witchcraft, and even worse to practice it.
The Cardinal then referred to the Catholic Bishops' meeting with President Cyril Ramaphosa, where the president told them how privileged he had felt to be part of the Beatification of Blessed Benedict Daswa in September 2015. Audio
Cardinal Napier concluded by saying that like the grain of wheat that has fallen to the ground and died, the fruits of Blessed Benedict Daswa will continue to be realised for a long time to come.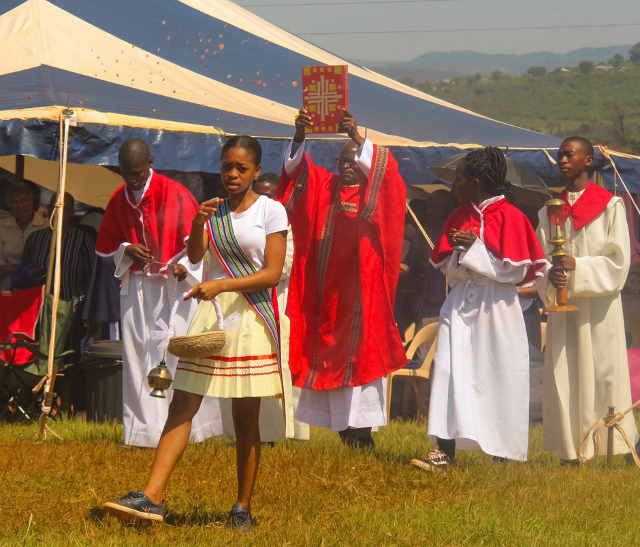 Blessed Benedict Daswa was officially named the country's first Catholic martyr at his beatification in September 2015 which was witnessed by more than 20 000 people. The beatification moved him a step closer to sainthood. One of the priests at his beatification mentioned that as he was killed Daswa was on his knees praying. Blessed Benedict Daswa remains the first martyr who stood up against witchcraft. He stands out as an example and model for a way of life for all Christians.
Blessed Benedict Daswa was born in 1946 in Mbahe Village near Thohoyandou in Limpopo. He started his way of faith in the Catholic Church as a teenager, and proceeded to become an educator and later a school principal in Nweli. He was married to Evelyn Munyai and together they were blessed with 8 children. He led a very active life in the community and in the church. As an active member of the community, he later formed a soccer team to keep young people around the community out of crime.
Benedict Daswa was a strong believer in Christ and stood against all acts of witchcraft in the community, he believed was a way of enslaving the people and often led to the killing of innocent people as witches, he saw witchcraft as going against his Christian beliefs and values.
In November 1989, heavy rains and lightning strikes plagued the area. When his village suffered strong storms again in January 1990, the elders of the village decided that the lightning occurred due to witchcraft and therefore demanded a sum of R5,00 from all their residents to pay for a witch doctor to "sniff out" the witch who caused the storms. Refusing to believe this, Daswa said they were just a natural phenomenon and refused to pay the money, which led to his untimely death.
On the 2nd of February 1990, Daswa drove his sister-in-law and her sick child to a doctor in Thohoyandou and on the way he picked up a man who asked for his help to take a bag of mealie meal to his home in a town next to Mbahe. At around 7:30pm, he returned to Mbahe where he left his sister-in-law and child near their home. Returning home he met with a mob of people from the village who blocked his route with trees and stones. while he was attempting to clear his route, the villagers chased him and after catching up with him, he was hit with a knobkerrie, and boiling water was poured over his head.