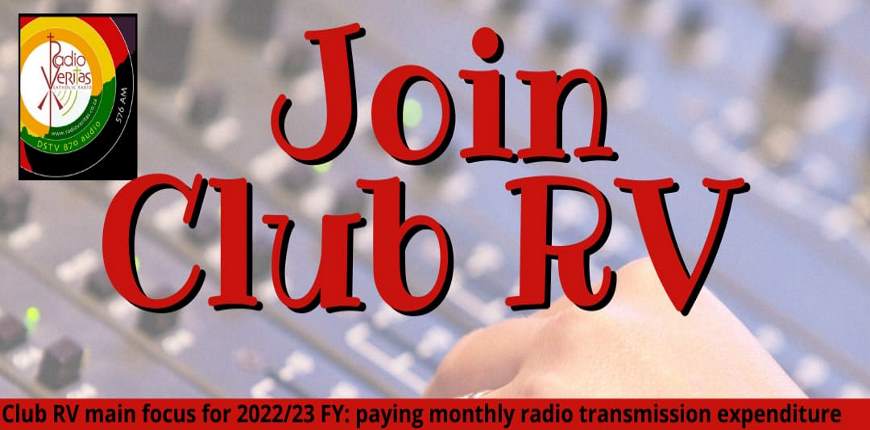 ABOUT CLUB RV
Radio Veritas is a Catholic radio station started by Fr Emil Blaser OP and Mrs Olinda Orlando as a CD production house in 1999. In 2001 the first broadcasts began, with a temporary licence to transmit special programmes for Easter. For 10 years Radio Veritas struggled to obtain a permanent radio licence, which was eventually received in 2011 on 576AM. As great as this news was, it came with extremely high radio transmission costs associated with AM broadcasting. These continue to escalate and have reached unmanageable peaks.
Radio Veritas has been broadcasting to Catholics and non-Catholics alike and when South Africa went into level 5 lockdown, Radio Veritas increased the number of programmes in an effort to address the needs of the faithful who were at home and not able to go to their churches and schools. Some of the programmes introduced during that time include: Catholic Schools Virtual Open Day (a platform where Catholic School advertise themselves), increased number of Masses, children's programmes presented by children from different parts of the country and from various catholic schools, Catholic Corner (a weekday programme filled with Catholic music and reflects on feast days), Laudato Si (based on Pope Francis' encyclical on caring for creation), In the Hands of Grace (funeral notices), Called to Serve (a religious life programme), Prayer Hour (for an end to the pandemic led by priests, religious sisters and bishops in the SACBC region, youth shows, Covid-19 Psycho-Social support programme (in collaboration with LCCL SA and CATHCA). Listeners continue to express much gratitude for the Radio Veritas programmes, appreciating the value they gained from them.
REVENUE AND TRANSMISSION COSTS:
Radio Veritas now broadcasts on 576AM, DSTV 870 and online on www.radioveritas.co.za. The transmission costs on AM are currently standing at R182 000 p/m. The monthly revenue received by Radio Veritas now is able to cover all costs except transmission. In addressing this concern, Radio Veritas has introduced Club RV, a Club that is solely focused on paying off expenses that the revenue cannot cover.
CLUB RV:
Club RV is a newly established club that focuses on this shortfall. Radio Veritas is looking for +- 200 Catholics / Catholic Groups to assist in financing this very important evangelical Catholic medium for Southern Africa. On an annual basis the focus of the club will be reviewed against the needs of the station. During the current financial year (1 April 2022 – 31 March 2023), Club RV's focus is covering the monthly transmission costs of R 182 000 p/m. The club comprises of groups and individuals who contribute a minimum of R500 / R1000 / R 2500 per month, depending on the tier they signed up for.
HOW CLUB RV WORKS:
Joining as an individual:
1. Contact Radio Veritas by emailing
This email address is being protected from spambots. You need JavaScript enabled to view it.
or calling 079 243 6725. Request Radio Veritas to contact you in order to register your details. Alternatively fill in the form below and email
2. Radio Veritas will confirm your club member status and provide your membership number and banking details.
Joining as a group:
1. Identify people who would be in your group
2. Agree on the monthly amount individuals will be able to contribute.
3. Nominate the group administrator (this is the person who will deposit the monthly cumulative amount donated by all the group members).
4. Contact Radio Veritas with your group members details and group name or fill in the form below and email it.
This email address is being protected from spambots. You need JavaScript enabled to view it.
/ 079 243 6725.
5. Radio Veritas will confirm your club member status, provide you with your membership number and banking details.
On a monthly basis Radio Veritas will share information about the total money collected vs target (money due to the service provider).
An Annual Club RV Thanksgiving Session will take place towards the end of the financial year.