CARE OF OUR COMMON HOME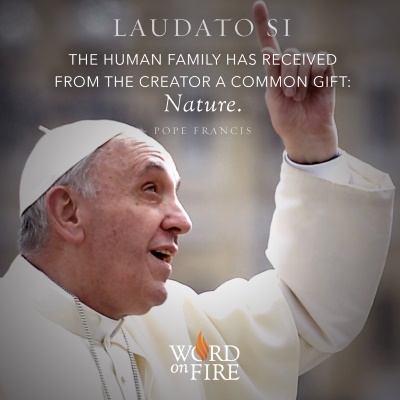 Laudato Si was Pope Francis' second encyclical, published in June last year. The encyclical deals with the Church's teaching on the environment, global warning, and "care of our common home".
Sister Angelica OP has summarised this wonderful document to make it easier for us to assimilate and understand Pope Francis' thoughts on this crucial issue.
• The earth has been harmed severely by our irresponsible use and abuse of her goods. Humans believe they have the right to plunder her at will. The earth herself is laid waste and is among the most maltreated of her poor.
• Authentic human development has MORAL character. In the understanding of Patriarch Bartholomew the roots of the environmental problems are ethical and spiritual. Consumption needs to be replaced by sacrifice, greed with generosity, wastefulness with a spirit of sharing and asceticism to give rather than only give up. He writes: "We need to
accept the world as a sacrament of communion....and that the divine and human meet in the slightest detail in the seamless garment of God's creation".
• There is need for a new dialogue that needs to include everyone on how to shape the future of our planet. Our action to help the Earth will need to overcome the indifference of many and the powerful opposition of people exploiting recklessly the resources of the Earth for their own profit.
• Climate Change is accompanied by a rise of the global average temperature, by a more violent weather pattern, less rain, loss of a part of the planet's biodiversity, the melting of the ice caps accompanied by a dangerous release of methane gas, and a decline of the quality and quantity of sweet water. Marine systems are poisoned by pollution.
• PERSONAL, COMMUNAL and NATIONAL ACTION are urgent and POSSIBLE to reduce and minimise POLLUTION of the atmosphere through high levels of smoke from fuels and industrial processes, of soil through fertilizers, herbicides and other agrotoxins and of water through acidification, untreated sewerage and other poisons. We have to reduce the amount of the millions of tone of solid waste much of which is non-biodegradable, highly toxic and radioactive. Through RECYCLING, we move towards a circular model of production that will help us to care for the planet in a SUSTAINABLE LIFE STYLE.
• More research is needed to understand the great variety of ecosystems and how they impact on each other. More love and care is needed by individuals and communities to monitor/ protect the ecosystem they are part of.
• The HUMAN and the NATURAL environment deteriorate together. We need to address the causes of social and natural degradation at the same time. We also note that the vast majority of the poor is most affected by both.
• CLIMATIC JUSTICE and HUMAN RIGTHS ISSUES that need to be addressed to honour and promote GLOBAL SOLIDARITY include: Excessive carbon emissions caused by huge consumption by mostly developed countries, export of solid and liquid toxic waste to developing countries and the oceans, polluting modes of production of mostly multinational companies in developing countries and their leaving depleted deforested natural regions behind after departure.
• In Christian thinking humans possess a special dignity above all other beings and therefore owe and are owed esteem and respect. "A correct relationship with the created world will not weaken this social dimension of openness to others much less the transcendent dimension of our openness to the "Thou" of God".
• EFFECTIVE ACTION DEMANDS: capable, incorrupt leadership, the establishments of legal frame works in all countries that can set clear boundaries that will ensure the protection of ecosystems, moderating the capitalist economic system so that it will promote true humanity and global negotiation and solidarity that makes the production of weapons redundant.
TOWARDS AN ECOLOGICAL SPIRITUALITY;
• There is at present a feeling of uncertainty which in turn "becomes a seedbed of collective selfishness" (Guardini). Also present day capitalism helps to make people self- centred and greedy. This self-centeredness can lead to the loss of a sense for the common good and, if weather conditions become catastrophic, to social unrest and violence.
• Pope Francis stresses that we are able to rise above ourselves and plan and choose what
is good for humanity, indeed for the Earth.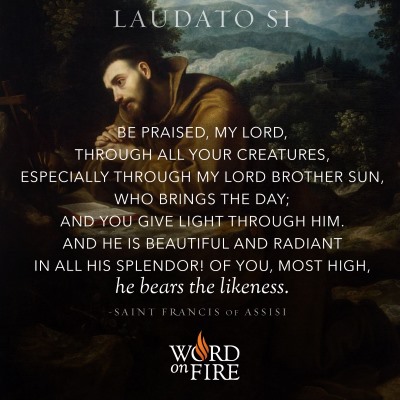 • An ecological spirituality is grounded in our faith and needs to motivate us to a passionate concern for the protection of our earth. This living as protectors of God's handiwork is not optional but an essential aspect of our spiritual life and experience. It is marked by generous care and is full of tenderness. It is one way to protect us from the greed and selfishness of modern day capitalism. It is also marked by gratitude for God's loving gift of creation and engenders in us a loving awareness that "we are not disconnected from the rest of the creatures but joined in a splendid universal communion".
• Ecological spirituality invites us to a prophetic and contemplative life style capable of deep enjoyment, free of the obsession to consume, to rush, to waste and spend.
• In the face of modern technology claiming total mastery over everything, we need to foster in ourselves, families and communities, humility and sobriety. The preservation of integrity of human life requires the acknowledgement of God in ourselves and in the whole of creation.
• Immorality, the loss of ethics and honesty corrode the foundations of social life and lead to new forms of violence and brutality. A genuine culture of care for the environment is linked to love and integrity in social life- political, economic and cultural. This social love will inspire us to devise larger strategies to halt environmental degradation.
• "The universe unfolds in God, who fills it completely." We are to discover God in all there is. It is not that these are divine, but as our experience of God deepens through contemplation, we become more and more sensitive to the intimate connection between God and all beings.
• In the incarnation and in the sacraments nature is taken up by God and is empowered to mediate Divine Life. "The Eucharist joins heaven and earth; it embraces and penetrates all creation."
In view of today's cultural and ecological crisis, families and educators need to help young people to a new ecological sensitivity and generosity. Human society needs to restore ecological balance and peace between people and peace with God. Our educators and leaders need to develop an ethics of ecology and help young and old to grow in solidarity, responsibility and compassionate care. Our education can bring about changes in life style and encourage ways of acting that help our Earth, e.g. saving the use of plastic, paper, water, cooking only what can be consumed, recycling, using public transport, planting trees, saving all forms of fossil energy, re-using rather than discarding, reducing waste and caring for all beings and their needs.
This is a summary of some of the key considerations of the Encyclical "LAUDATO SI" of Pope Francis published in 2015.