Lesetja Madiba is a Financial Wellness Consultant and has a B.Comm Statistics.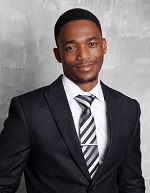 Lesetja is passionate about people and their financial wellness. He believes that a higher quality of life can be achieved for all through effective and sound financial management.
He completed a BComm Statistics in 2014 at the University of Pretoria and started his career at a wealth management company where he dealt with offshore investments and retirement fund investments.
He is a Financial Wellness Consultant at Citadel and is the Radio Veritas Financial Coach. He can be heard on the Friday weekly Financial Segment on Radio Veritas at 17:00.
Lesetja can be contacted at Email: This email address is being protected from spambots. You need JavaScript enabled to view it.
Twitter: @FinCoachMadiba
LinkedIn: Lesetja Madiba Financial Wellness Consultant @ Citadel Investment Services